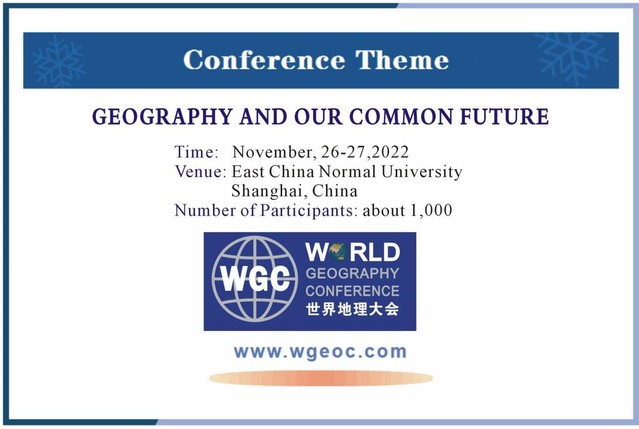 The Conference on World Geography
There is only one earth for humankind, and people worldwide share weal and woe. At this critical moment in time, we are witnessing great advancements in science and technology; material wealth has been constantly increasing, and human civilization has reached new heights. Meanwhile, COVID-19 pandemic are ravaging the entire world; climate change, biodiversity loss and pollution have become the three major environmental crises of our times, all of which have posed unprecedented challenges to humanity's survival and development. As the major discipline specializing in the study of a human-nature relationships, geography takes the earth surface system as the research subject and integrates nature and society in the paradigm that links time and space in research. At global, regional, national, and local scales, geography can identify patterns and processes concerning spatial differentiation of geographical elements and human-nature coupling mechanism using modern technologies such as remote sensing, GIS and big data. Geographers are also obligated to support national planning and regional cooperation, promote effective integration of physical and human geography to better harmonize human-nature relationships for a healthy people and healthy planet. This helps provide scientific basis for policy and solutions for sustainable development.

Since China's opening up in the late 1970s, Chinese geographers have conducted extensive research focusing on major global issues and have hence made important contributions to the sustainable development of China and contributes to advances of sustainability science. Ever since, they have become an integral part of the global science community and building on their tracked record and expertise, they stand ready to work with their international counterparts in the global war against climate change, biodiversity loss and pollution and help remove roadblocks to meeting sustainable development goals set in the 2030 agenda. Against this backdrop, the Conference on World Geography is designed as global platform for geographers to exchange views, share progress in their respective studies, and have a dialogue with scientists of other disciplines and policy makers in seeking for solutions for the environmental crisis. It will be held in Shanghai every two years starting from 2022. The first Conference of World Geography will be held at East China Normal University in Shanghai November 2022. We look forward to welcoming scholars and students in the field of geography and related disciplines, as well as policy makers, business leaders and the civil society to join us.
The Conference Topics
(Members of the organizing committee and relevant institutes are welcome to organize conference panels related to the theme.)
(1) Climate Change and Sustainable Development
(2) Ecological Crisis and Green Economy
(3) Geography and Low Carbon Energy Security
(4) Variation of the Asian Monsoon Region and Regional Integration
(5) Africa's Environment and China-Africa Cooperation
(6) Sustainable Development in Latin America
(7) Rapid Change in Cryosphere
(8) The Pan-third Pole Region Change and Greening the Silk Road
(9) Marine Ecosystems and Sustainable Transportation
(10) Research Innovative Tools and Methodologies for Advancement of World Geography
The Conference Organization
■ Sponsors:
The Geographical Society of China
China Institute for Innovation & Development Strategy
East China Normal University
University of Chinese Academy of Sciences
■ Organizer:
Center for World Geography and Geostrategic Studies, East China Normal University
The Conference Advisory Board
■ Chairs:
■ Vice Chairs:
| | |
| --- | --- |
| Lu Dadao | Member of the Chinese Academy of Sciences; Former Chairman of the Geographical Society of China; Professor of Institute of Geographic Sciences and Natural Resources Research (CAS) |
| | Member of the Chinese Academy of Sciences; Vice President of the International Geographical Union; Director of Academic Committee of Research Center for Eco-Environmental Sciences (CAS); Professor |
| | Executive Vice Chairman of the China Institute for Innovation & Development Strategy; Professor |
| Yu Lizhong | Former Vice Chairman of the Geographical Society of China; Former President of New York University Shanghai (NYU Shanghai); Professor |
| Ge Jianxiong | Former Director of the Historical Geography Committee of Geographical Society of China; Professor of Institute of Chinese Historical Geography, Fudan University |
■ Members:
| | |
| --- | --- |
| Alexander Murphy | Former President of the American Association of Geographers; Member of the Academia Europaea; Professor of Department of Geography, University of Oregon, USA |
| Aurora C Elmore | Cooperative Institute Manager, NOAA: National Oceanic & Atmospheric Administration |
| Cindy Fan | Vice Provost of University of California, Los Angeles; Professor |
| Deliang Chen | Member of the Royal Swedish Academy of Sciences; Foreign Member of the Chinese Academy of Sciences; Professor of University of Gothenburg |
| Daniel Z. Sui | Executive Vice President of Virginia Polytechnic Institute and State University, USA; Professor |
| Dietrich Soyez | Former First Vice President of International Geographical Union; Professor of University of Cologne, Germany |
| Francois Gipouloux | Emeritus Professorof French National Centre for Scientific Research |
| Fulong Wu | Fellow of the Academy of Social Sciences (FAcSS); Professor of University College London, UK |
| Lily Kong | President of Singapore Management University; Professor |
| Michael Meadows | Member of the Academia Europaea (The Academy of Europe); President of the International Geographical Union; Professor of University of Cape Town, South Africa |
| Peter Dicken | Emeritus Professor of Department of Geography, University of Manchester, UK |
| Vladimir Kolosov | Former President of the International Geographical Union; Professor of Center for Geopolitics Research, Russian Academy of Sciences |
| Wei Xu | Professor of Department of Geography, Lesbridge University, Canada |
| Yaping Wang | Fellow of the Academy of Social Sciences (FAcSS); Professor of School of Social & Political Sciences, University of Glasgow, UK |
| Yehua Dennis Wei | Professor of Department of Geography and Institute of Public and International Affairs, University of Utah, USA |
| Chen Jun | Member of the Chinese Academy of Engineering; Professor of National Geomatics Center of China (Ministry of Natural Resources of the People's Republic of China) |
| | Member of the Chinese Academy of Sciences; Chairman of the Geographical Society of China; Director of Institute of Tibetan Plateau Research (CAS); Professor |
| Cheng Shengkui | Chairman of the China Society of Natural Resources; Professor of Institute of Geographic Sciences and Natural Resources Research (CAS) |
| Cui Peng | Member of the Chinese Academy of Sciences; President of the China Association for Scientific Expedition; Professor of Institute of Geographic Sciences and Natural Resources Research (CAS) |
| Dai Yongjiu | Member of the Chinese Academy of Sciences; Professor of School of Atmospheric Sciences, Sun Yat-sen University |
| Ge Quansheng | Vice Chairman of the Geographical Society of China; Director of Institute of Geographic Sciences and Natural Resources Research (CAS); Professor |
| Kwan Mei Po | Fellow of the Academy of Social Sciences (FAcSS); Director of Institute of Space and Earth Information Science, Chinese University of Hong Kong; Professor |
| Guo Huadong | Member of the Chinese Academy of Sciences; Honorary President of the International Society for Digital Earth; Director of the Academic Committee of Aerospace Information Research Institute (CAS); Professor |
| Huang Renwei | Director of Institute of Belt and Road Initiative and Global Governance, Fudan University; Professor |
| Lai Yuanming | Member of the Chinese Academy of Sciences; Director of Northwest Institute of Eco-Environment and Resources (CAS); Professor |
| George C.S. Lin | Fellow of the Academy of Social Sciences (FAcSS); Chair Professor of Department of Geography, University of Hong Kong |
| Liu Jian | Director of Science Division, Chief Scientist of UN Environment Programme |
| Liu Suichen | Vice Chairman of the China Institute for Innovation & Development Strategy |
| Qian Xuhong | Member of the Chinese Academy of Engineering; President of East China Normal University; Professor |
| Qin Weijia | Director of Chinese Arctic and Antarctic Administration (CAA); Professor |
| Shen Jianfa | Vice Director of the Population Geography Committee of Geographical Society of China; Professor of The Chinese University of Hong Kong |
| Shi Peijun | Former Vice Chairman of the Geographical Society of China; President of Qinghai Normal University; Professor of Beijing Normal University |
| Wang Yanfen | Vice Chairman of the China Society of Natural Resources; Executive Vice President of University of Chinese Academy of Sciences; Professor |
| Xia Jun | Member of the Chinese Academy of Sciences; Vice Chairman of the Geographical Society of China; Professor of Wuhan University; Professor of Institute of Geographic Sciences and Natural Resources Research (CAS) |
| | Member of the Chinese Academy of Sciences; Director of the Academic Committee Institute of Tibetan Plateau Research (CAS); Professor |
| Gar On | Member of the Chinese Academy of Sciences; Chair Professor of Centre of Urban Planning and Environmental Management, University of Hong Kong |
| Yu Guirui | Member of the Chinese Academy of Sciences; Professor of Institute of Geographic Sciences and Natural Resources Research (CAS) |
| Zhang Jing | Member of the Chinese Academy of Sciences; Professor of East China Normal University |
| Zhang Renhe | Member of the Chinese Academy of Sciences;Vice President of Fudan University; Professor of Chinese Academy of Meteorological Sciences |
| Zhang Si | Member of the Chinese Academy of Engineering; Director of South China Sea Institute of Oceanology (CAS); Professor |
| Zhang Xiaolei | Vice Director of the Institute of Geology and Geophysics (CAS); Professor |
| Zhou Chenghu | Member of the Chinese Academy of Sciences; Professor of Institute of Geographic Sciences and Natural Resources Research(CAS) |
| Zhou Dadi | Executive Vice President of the China Energy Research Society; Professor |
The Conference Organizing Committee
■ Chairs:
| | |
| --- | --- |
| Qin Dahe | Member of the Chinese Academy of Sciences; Chairman of the Asian Geographical Association;Director ofCenter for World Geography and Geostrategic Studies, East China Normal University; Professor |
■ Vice Chairs:
| | |
| --- | --- |
| Chen Fahu | Member of the Chinese Academy of Sciences; Chairman of the Geographical Society of China; Director of Institute of Tibetan Plateau Research (CAS) ; Professor |
| Qian Xuhong | Member of the Chinese Academy of Engineering; President of East China Normal University; Professor |
| Wang Yanfen | Vice Chairman of the China Society of Natural Resources; Executive Vice President of University of Chinese Academy of Sciences; Professor |
■ Secretary-Generals:
| | |
| --- | --- |
| Du Debin | Director of the World Geography Committee of Geographical Society of China; Vice Director of Faculty of Earth Sciences, East China Normal University; Professor |
| Zhang Guoyou | Vice Chairman and Secretary General of the Geographical Society of China; Professor of Institute of Geographic Sciences and Natural Resources Research (CAS) |
| Wang Boyong | Vice President and Secretary General of the China Institute for Innovation & Development Strategy |
| Xiao Cunde | Director of State Key Laboratory of Earth Surface Processes and Resource Ecology, Beijing Normal University; Professor of Faculty of Geographical Science, Beijing Normal University |
■ Members:
| | |
| --- | --- |
| Chen Xi | Academician of the International Eurasian Academy of Sciences; Director of Arid Zone Branch of Geographical Society of China; Vice Director of Xinjiang Branch of Chinese Academy of Sciences; Professor |
| Deng Wei | Academician of the International Eurasian Academy of Sciences; Director of Mountain Branch of Geographical Society of China; Professor of Faculty of Geography Resource Sciences, Sichuan Normal University |
| Deng Xiangzheng | Director of the Development Geography Committee of Geographical Society of China; Professor of Institute of Geographic Sciences and Natural Resources Research (CAS) |
| Ding Pingxing | Director of Faculty of Earth Sciences, East China Normal University; Professor |
| Fan Jie | Director of Territorial Planning Research Branch of Geographical Society of China; Vice Director of Institutes of Science and Technology (CAS); Professor of Institute of Geographic Sciences and Natural Resources Research (CAS) |
| Fang Chuanglin | Academician of the International Eurasian Academy of Sciences; Director of the Human Geography Committee of Geographical Society of China; Professor of Institute of Geographic Sciences and Natural Resources Research (CAS) |
| Ge Yuejing | Vice Director of the Political Geography and Geo-relationship Committee of Geographical Society of China; Professor of Faculty of Geographical Science, Beijing Normal University |
| He Canfei | Vice Chairman of the Geographical Society of China; Dean of College of Urban and Environmental Sciences, Peking University; Professor |
| Huang Xianjin | Director of Huazhi Institute for Global Governance; Professor of School of Geography and Ocean Science, Nanjing University |
| Jin Fengjun | Director of the Economic Geography Committee of Geographical Society of China; Professor of Institute of Geographic Sciences and Natural Resources Research (CAS) |
| Kang Shichang | Vice Director of Northwest Institute of Eco-Environment and Resources (CAS); Director of State Key Laboratory of Cryosphere Science; Professor |
| Li Xia | Fellow of the Academy of Social Sciences (FAcSS); Professor of School of Geographic Sciences, East China Normal University |
| Li Guoping | Director of the Urban and Regional Management Committee of Geographical Society of China; Director of Beijing Development Institute, Peking University; Professor |
| Li Tongsheng | Vice Director of the World Geography Committee of Geographical Society of China; Professor of College of Urban and Environmental Sciences, Northwest University |
| Lin Hui | Fellow of the Academy of Social Sciences (FAcSS); Dean of School Geography and Environment, Jiangxi Normal University; Professor |
| Liu Chuang | Secretary General of the Big Data Committee of Geographical Society of China; Professor of Institute of Geographic Sciences and Natural Resources Research (CAS) |
| | Vice President of the Chinese Research Society of African Affairs; Director of Institute of African Studies, Zhejiang Normal University; Professor |
| Liu Huiyuan | Vice Director of the World Geography Committee of Geographical Society of China; Professor of Shenzhen University |
| Liu Min | Vice Chairman of the Geographical Society of China, Dean of School of Geographic Sciences, East China Normal University; Professor |
| | Director of "the Belt and Road"Research Branch of Geographical Society of China; Vice Director of Institute of Geographic Sciences and Natural Resources Research (CAS); Professor |
| Liu Yansui | Fellow of TWAS (The World Academy of Sciences); President of the International Geographical Union (IGU) Commission on Agricultural Geography and Land Engineering (AGLE); Professor of Institute of Geographic Sciences and Natural Resources Research (CAS) |
| Long Hualou | Director of the Agricultural Geography and Rural Development Committee of Geographical Society of China; Professor of Institute of Geographic Sciences and Natural Resources Research (CAS) |
| Lu Huayu | Vice Chairman of the Geographical Society of China; Dean of School of Geography and Ocean Science, Nanjing University; Professor |
| Luo Huasong | Vice Director of the World Geography Committee of Geographical Society of China; Dean of Graduate School of Yunnan Normal University; Professor |
| Lv Benfu | Professor of School of Economics and Management, University of Chinese Academy of Sciences; Director of Laboratory of Cyber Economy & Knowledge Management |
| Song Changqing | Vice Chairman of the Geographical Society of China; Executive Dean of Faculty of Geographical Science, Beijing Normal University; Professor |
| Wei Wenshou | Professor of Xinjiang Institute of Ecology and Geography (CAS) |
| Xiong Juhua | Director of Department of Earth Sciences (Division 1) of National Natural Science Foundation of China; Professor |
| Xue Desheng | Vice Chairman of the Geographical Society of China; Dean of School of Geography and Planning, Sun Yat-sen University; Professor |
| Yang Linsheng | Director of the Health Geography Committee of Geographical Society of China; Professor of Institute of Geographic Sciences and Natural Resources Research (CAS) |
| Zeng Gang | Vice Director of the World Geography Committee of Geographical Society of China; Director of Institute of Urban Development, East China Normal University; Professor |
| Zhang Jie | Director of the Tourism Geography Committee of Geographical Society of China; Director of Faculty of Geography & Tourism and Culture, Ningbo University; Professor of School of Geography and Ocean Science, Nanjing University |
| Zhang Pingyu | Vice Director of Territorial Planning Research Branch of Geographical Society of China; Professor of Northeast Institute of Geography and Agroecology (CAS) |
| Zhang Zhenke | Secretary General of the Chinese Research Society of African Affairs; Director of the Marine Geography Committee of Geographical Society of China; Professor of Nanjing University |
| Zhen Feng | Director of the Urban Geography Committee of Geographical Society of China; Vice Dean of School of Architecture and Urban Planning, Nanjing University; Professor |
| Zhou Shangyi | Director of the Cultural Geography Committee of Geographical Society of China; Professor of Faculty of Geographical Science, Beijing Normal University |
Contacts
Li Chenyan(Geographical Society of China)
13522322331;010-64870663;
lichenyan@igsnrr.ac.cn
Chen Dan (East China Normal University)
17302145235;021-62238013;
dchen@re.ecnu.edu.cn
Conference Website